Hydraulic Adhesion Tester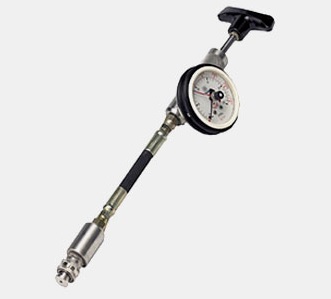 Hydraulic Adhesion Tester
Product Description
Caltech India offers the latest Hate Hydraulic Adhesion Tester from paint test equipments.
Hate Hydraulic Adhesion Tester is one of the most accurate and versatile adhesion testers currently available for paint, coating inspection on site. Best adhesion testing machine for adhesives, paints and coatings includes zinc thermally applied coatings.
Adhesion Test Equipment for measuring adhesion of coatings to metal, wood, concrete and other rigid substrates
The adhesion test results are measured by the required tensile pull on a dolly glued to the coating surface. The force is applied through the center of the dolly by a hydraulically loaded pin.
Hydraulic Adhesion Tester connection to the stainless steel dolly is easily made with a snap on connector. The pressure is swivel mounted allowing testing in any position, this is significant as coating breakdown invariably starts at positions that were difficult to reach during surface preparation and application. Tests can be made on flat, concave and convex surfaces. Dollies can be supplied for measuring on the external and internal radius.
Adhesion Testers conforms to ASTM and ISO methods of measurement with an accuracy of 1% of pressure gauge FSD.
Trade Information
Australia North America South America Eastern Europe Western Europe Middle East Central America Asia Afric

All Indi